Charter Schools Receive Meg(a) Bucks
on Wednesday, September 21, 2011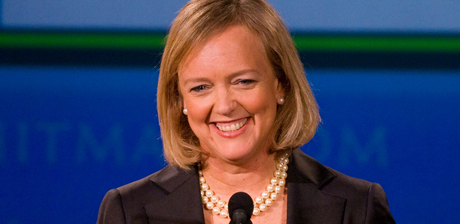 Meg Whitman has joined the philanthropically elite with her recent donations to charter schools. (Photo by Max Morse)
The Bay Area's public school system sustained another groin kick of aggressive generosity Tuesday when politically ambitious billionaire Meg Whitman bestowed $2.5 million on South Bay and Peninsula charter school programs. Apparently, the maid-firing former eBay exec didn't spend all her money losing last year's race for governor to Jerry Brown. The donation will go to Summit Public Schools, which established Tahoma and Rainier high schools in San Jose just this year. If the charter school's name rings a bell, that's because its first school in Redwood City was glamorously featured in the fire-alarm documentary Waiting for Superman. Whitman's known for being a big fan of the film, which focuses on how the public education system is failing future generations. Summit's founder and CEO, Diane Tavenner, as well San Jose Charter School Consortium director Alicia Gallegos Fambrini, certainly deserve a little merit pay for scoring the winning bid, but the cash infusion doesn't bode well for the tattered public school system. San Jose Unified School District has done well to stave off massive cutbacks the last few years while other districts around the area were distributing pink slips. Whitman's philanthropy, however, appears to be another charter schools powerplay. The charter schools somehow have become the charity darling of the ultrarich, with Netflix's Reed Hastings and Facebook's Mark Zuckerburg leading the way. We won't hold our breath waiting for a press release about a Silicon Valley billionaire's gift to a poor, underfunded school that can't afford chalk and writing paper. At minimum, it would have to be something trendier, like a crowdsourced microloan.
Post a Comment
Mission Statement: This site is designed to encourage political debate, discussion and change in our city, started by people who value San Jose and are interested in her future and in this valley's place in the state and nation.
Disclaimer: All views expressed on this site are solely the opinion of the individual writer.
Comment Policy: Please read our comment policy before posting.
© 2013 San Jose Inside. All rights reserved. Contact us