Lawsuits Expected as Fiscal Year Ends
on Thursday, June 30, 2011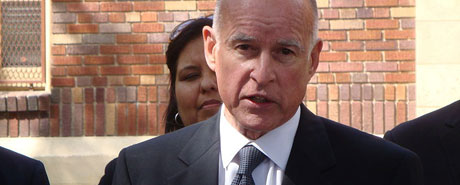 Gov. Jerry Brown has followed through with his vow to disband the state's RDAs and San Jose Mayor Chuck Reed has joined a legal challenge to the law.
It's the final day of the fiscal year, which means many people who work for the city, county and state will be out of a job starting tomorrow. It also means lawsuits are on the way.
Of the hundreds being laid off here in San Jose are 70 police officers, almost all of whom make up the youngest demographic of the force.
George Beattie, president of the Police Officers Association, penned a scathing letter blaming city officials for not putting public safety first and endangering citizens. He notes that Mayor Chuck Reed put aside $3 million for pension reform ballot measures that could have saved the jobs of 27 officers. Almost everyone at City Hall—the mayor, councilmembers, City Attorney Rich Doyle—admits any ballot measures to reduce retirement benefits will likely lead to lawsuits.
But with controversial budget decisions being made at the state level, San Jose is planning to become a plaintiff in another lawsuit. Gov. Jerry Brown signed a bill that is expected to eliminate the state's 398 redevelopment agencies, and Reed reportedly said the city plans to join the California Redevelopment Association and the League of California Cities in their legal challenge to the bill.
Last month, Harry Mavroegenes announced he was resigning from his executive director role with the San Jose Redevelopment Agency as it transitions to an eight-person staff that will do little more than manage its properties' finances.
Post a Comment
Mission Statement: This site is designed to encourage political debate, discussion and change in our city, started by people who value San Jose and are interested in her future and in this valley's place in the state and nation.
Disclaimer: All views expressed on this site are solely the opinion of the individual writer.
Comment Policy: Please read our comment policy before posting.
© 2013 San Jose Inside. All rights reserved. Contact us