The Gerrymandered State
on Thursday, April 7, 2011
The California Redistricting Commission will be holding a hearing on May 23 in San José, tentatively scheduled at San José City Hall. There is nothing that makes people's eyes glass over faster—and nothing more interesting to politicians—than talk about redrawing district lines.
Every ten years, after the census is taken, political lines have to be adjusted to compensate for population shifts. This is the opportunity for politicians to gerrymander districts. Gerrymandering is the process of turning democracy on its head. Instead of voters picking the politicians, the politicians pick the voters.
After the 1990 census, there was so much conflict with redistricting that the courts had to intercede and draw the lines. That, combined with a few short years of an open primary, led to a minor shift in both parties to the center.
The parties learned this lesson and before the 2000 census; they placed a levy on members to fund consultants to prepare for redistricting. Open hearings were held throughout the state, comments and public input taken. All this material was carefully filed and put into drawers. The party leaders then went into backrooms, closed the doors and drew lines to create safe districts. What was presented to both houses was referred to as the "Incumbent Protection Bill."
The result was safe districts, and each party's primary became the actual election, since the general election was pretty much a foregone conclusion. With the primary the key, candidates started catering their messages and themselves to the most energetic flank of their party. Democrats became more liberal, Republicans more conservative. Reaching out, compromise, moderation became a thing of the past. Do it, and you might find the coveted chair position out of reach, your office door locked, or even a party-funded competitor to oust you.

Article continues below image.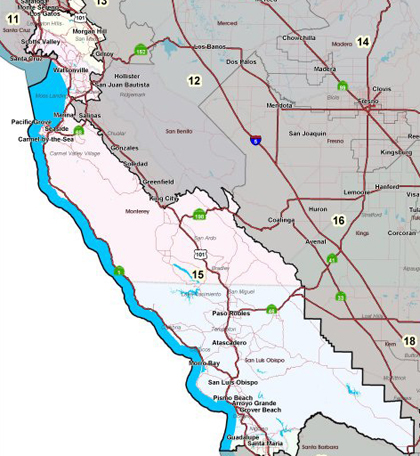 Nobody from Santa Clara County will ever be elected to represent California's Senate District 15, which stretches from Los Gatos and South San Jose all the way to Santa Maria.
Was there outrage? Yes. That's when the promises started. 'We now have time to correct this before 2010' was heard. Years passed and with each one came new promises. Finally it became clear that the politicians themselves would never pass a fair open process. Something had to be done. Lead by Common Cause and the League of Women Voters, a wide range of groups formed to pass Proposition 11 and eventually Proposition 20, creating the Citizens Redistricting Commission in charge of redrawing, Assembly, Senate, the Franchise Tax Board and Congressional districts.
The commission has now been formed, consisting of five Democrats, five Republications and four declined to state. All the fears of few and unqualified candidates were unfounded. Over 30,000 applicants applied and the final commission represents a very impressive set of individuals.
Rules on behavior are strict. No consideration of existing politicians, no discussion at all outside public hearings, and absolutely no talking to party leaders. It's as if the parties don't exist.
The law is pretty clear that the districts have to obey one person one vote; down to 1 percent margin. The Voting Rights Act has to be obeyed. After that districts have to be compact, continuous and have logical nesting. Counties, cities and communities of interest have to be kept together as much as possible.
Now comes the hard part. We don't live in counties, cities, and communities of interest that can be easily kept whole within 1% margin of one-person one vote. Some counties and cities will have to be split up, others combined. Where and how that is done is up to the commission and that is why they are holding the hearings. They will do two sets. The first before the draft districts are drawn up, which are going on now. After the drafts, they will have a second set of hearings to take input on adjustments. All discussions will be in open hearings and streamed on the Internet.
So if you are interested in making sure your community, neighborhood association, etc. is not split between political lines, or combined with others in a logical manger, than you might want to attend or at least follow the hearing discussions. This will not be a perfect process and not everyone will be happy, but the end result will be far better than what the parties would have done. And just maybe, maybe, the elected officials will be less beholden to the parties and more to the voters.
For more information got to: http://wedrawthelines.ca.gov.
Post a Comment
Mission Statement: This site is designed to encourage political debate, discussion and change in our city, started by people who value San Jose and are interested in her future and in this valley's place in the state and nation.
Disclaimer: All views expressed on this site are solely the opinion of the individual writer.
Comment Policy: Please read our comment policy before posting.
© 2013 San Jose Inside. All rights reserved. Contact us