County Sheriff Laurie Smith, right, has proven herself to be a strong leader. But will that translate to a run for mayor of San Jose in 2014?
We dream of the perfect candidate in our business. The right person, at the right time, with resources to win and the perfect fit for the populace and the times. Barack Obama in President 2008, Jerry Brown Governor in 2010, Willie Brown for San Francisco Mayor 1995, and Sheriff Laurie Smith for San Jose Mayor 2014. Only the last scenario won't happen.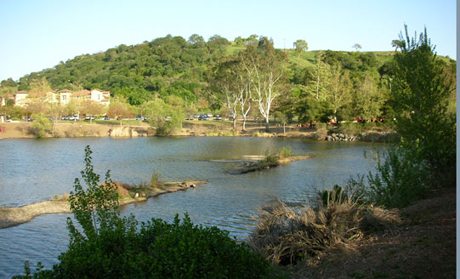 Almaden Lake Park is one area in San Jose that requires the oversight of the San Jose Park Rangers.
There is finally some good news on the San Jose Park Ranger front. Current plans are for the force to be increased next year. In addition to completing basic law enforcement training, park rangers have a unique set of skills and serve as ambassadors for our parks and trails.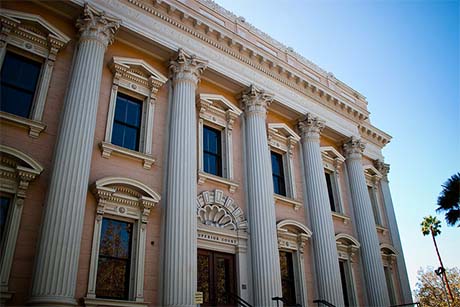 Santa Clara County Superior Court by HarshLight/Creative Commons.
UPDATE: A ruling is expected by 5pm Friday. Check back for a breakdown of Thursday's court proceedings and the judge's decision.—Editor
The Santa Clara Family Health Foundation has sued the County of Santa Clara to stop it from releasing documents about its financial transactions. The documents were requested by Metro Newspapers 30 days ago under the California Public Records Act. The foundation's request for a temporary restraining order goes to court this morning.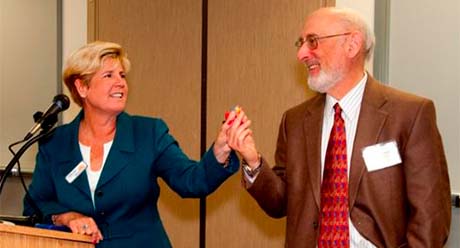 Santa Clara Family Health Foundation CEO Kathleen King, left, has an attorney challenging a pubic records request into her nonprofit's internal communications.
The Santa Clara Family Health Foundation, a local nonprofit that helped bump up the county's sales tax last fall, doesn't want the public to know about its secret political activities. And now it's lawyering up to quash Metro/San Jose Inside's public records act requests.

Cindy Chavez is using her connections at the South Bay Labor Council and Democratic Central Committee to sidestep traditional methods of campaigning.
Cindy Chavez's campaign manager, Ed McGovern, acknowledged Tuesday evening that his client has a found a way to circumvent state laws that prevent independent committees from coordinating with candidate campaigns.

The fate of the Willow Glen trestle has been a hot topic amongst neighborhood activists. (Photo courtesy of http://wgbackfence.net)
Since their advent in the mid-80s, enterprise zones have sparked economic development. But, in some cases, these geographic areas that provide companies a litany of tax breaks have also granted corporations a chance to game the system. Two competing bills in the state legislature could either eliminate these zones or modify their scope. On Wednesday, San Jose's Rules and Open Government Committee will consider taking a stance on the bills, as well as discuss the future of the Willow Glen trestle.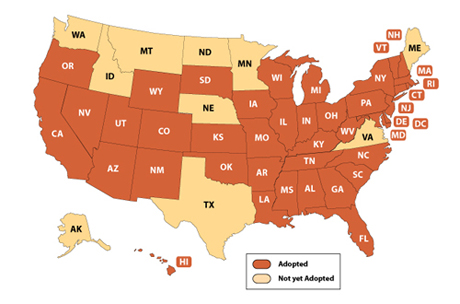 California is one of 45 states that have adopted Common Core of Standards for its public schools. (Image by National Geographic School Publishing)
If NY Times columnist and author Thomas Friedman is correct, and I believe he is, the world beyond schools no longer wants to know how much you know, but how you can use what you know. Our concept of schooling in America today is quite archaic if Friedman's assertion is right. However, there is a strong and hopeful effort, the Common Core of Standards, to steer the ship of public education to a better place.


Cindy Chavez's campaign pieces for the District 2 supervisor race seem very similar to mailers going out from two independent committees, which might go against campaign laws.
What's the difference between Cindy Chavez's campaign and some of the independent expenditure committees that want to get her elected to a county supervisor seat? Little more than a few choice words, according to mailers that have been targeting voters in District 2. With absentee balloting already in full swing, the campaign of candidate Teresa Alvarado chose last week to file a complaint with the Fair Political Practices Commission.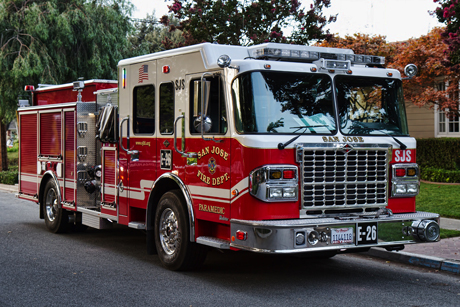 The San Jose Fire Department has lost more than 10 percent of its staff since 2007, and some councilmembers want to know if response times have suffered as a result. (Photo by Craig Allyn Rose)
An audit of the San Jose Fire Department didn't include enough analysis of staffing, councilmembers Ash Kalra and Xavier Campos argue in a memo. They want to look into whether the shorter staffing levels are what led to longer response times and loss in overall service. Other items on the council agenda for Tuesday include a settlement with the family of a young child killed by a falling tree and a proposed ordinance to allow street vendors to sell fresh produce in low-income neighborhoods.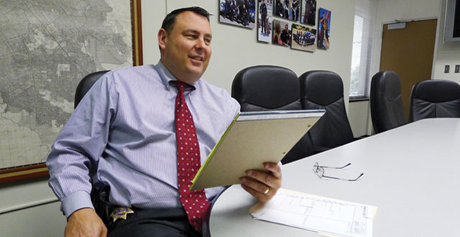 Chris Moore left his post as police chief of the San Jose Police Department in January. On Friday, his new employer, Rivada Networks, announced that Moore has joined its board of directors.
Former San Jose Police Chief Chris Moore has a new job as senior vice president for Rivada Networks, a company that designs broadband public safety communications for state and local government agencies. Moore retired from SJPD in January after serving the city of San Jose for more than 27 years. It was assumed Moore wouldn't stay unemployed for long, but his new digs have an interesting backstory.
Mission Statement: This site is designed to encourage political debate, discussion and change in our city, started by people who value San Jose and are interested in her future and in this valley's place in the state and nation.
Disclaimer: All views expressed on this site are solely the opinion of the individual writer.
Comment Policy: Please read our comment policy before posting.
© 2013 San Jose Inside. All rights reserved. Contact us