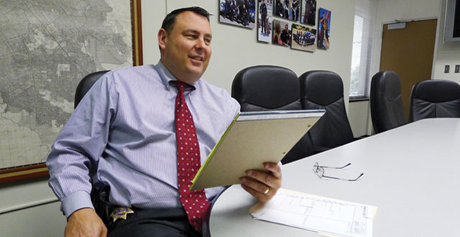 Chris Moore left his post as police chief of the San Jose Police Department in January. On Friday, his new employer, Rivada Networks, announced that Moore has joined its board of directors.
Former San Jose Police Chief Chris Moore has a new job as senior vice president for Rivada Networks, a company that designs broadband public safety communications for state and local government agencies. Moore retired from SJPD in January after serving the city of San Jose for more than 27 years. It was assumed Moore wouldn't stay unemployed for long, but his new digs have an interesting backstory.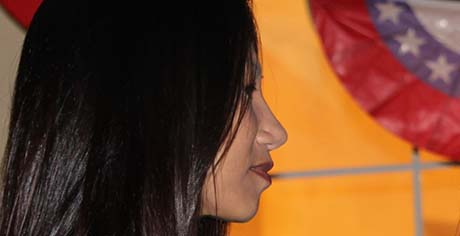 San Jose Vice Mayor Madison Nguyen was surprised to learn a local Vietnamese group had a problem with a comment she made to the local daily newspaper.
An assortment of local politicians and community members gathered in the City Hall rotunda late last month to pay their respects at the 38th "Black April," a ceremony to honor and remember the Vietnamese diaspora and fall of Saigon. By most respects, it was a solemn occasion that showed respect and solidarity. And then the Mercury News had to go and ruin everything.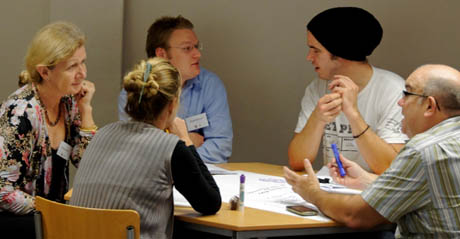 Participatory budgeting is a process gaining traction internationally and here in the Bay Area, as supporters argue that it gives residents a greater feeling of control over their communities. (Photo by tony4carr, via Flickr)
A form of fiscal democracy called "participatory budgeting" that started in Brazil and is slowly gaining traction in the U.S. may soon take hold in San Jose. Councilman Sam Liccardo submitted a proposal to the city Wednesday that asks to set aside $1.05 million from the Essential Services Reserve to fund a pilot program, which would give each of the 10 council districts $100,000 for residents to decide how to spend.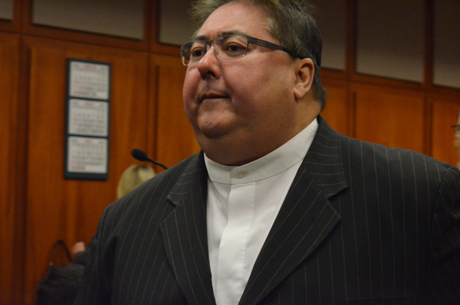 George Shirakawa Jr. pleaded guilty to misusing public funds and campaign contributions after using the money to fuel a gambling addiction.
A number of local elected officials have recently shown signs of unstable and unacceptable behavior in public life. All of these extreme actions indicate people dealing with mental-health related issues. That does not mean they are all mentally ill. Then again, the absence of a diagnosis is not the same as being "not sick."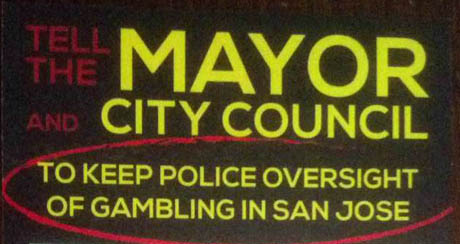 This is a cropped portion of a mailer recently sent to San Jose residents by a political action committee that has ties to a Sacramento lobbyist firm.
A Sacramento lobbying firm appears to be playing a game of snooker when it comes to misleading San Jose residents about crime and casinos. The "Consumer Alliance for a Strong Economy" has been scaring residents into believing the city wants to deregulate card club oversight through robocalls, provocative mailers and even a Mercury News op-ed.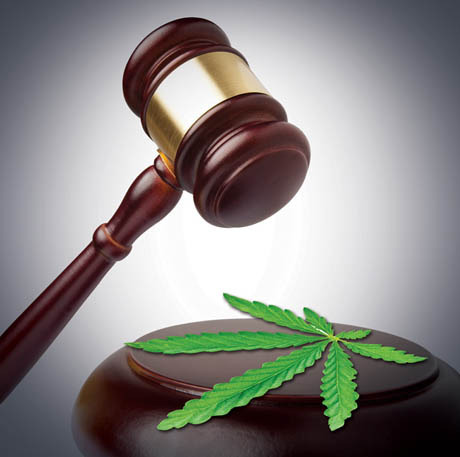 The California Supreme Court decided Monday to uphold a ruling that allows cities to ban medical marijuana collectives. (Image by Kara Brown)
Monday's state Supreme Court ruling that cities can choose to ban medical marijuana dispensaries counts as a setback—assuming setbacks can be measured by nothing lost, nothing gained. According to local medical marijuana collective operators and advocates, the court's unanimous decision did little more than uphold the status quo, after the city of Riverside's decision in 2009 to declare a moratorium and shutter 56 dispensaries. The ruling now upholds bans in about 200 other California cities, including local municipalities such as Palo Alto and Gilroy. But the same industry experts who dismiss the court's decision as inconsequential also see a silver lining.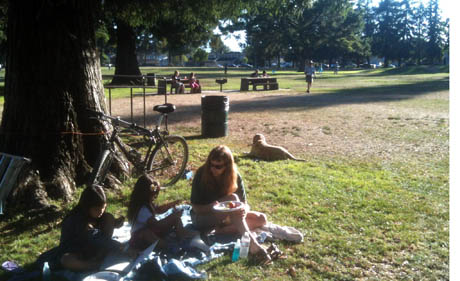 A family gathers for a picnic at Hamann Park during last year's National Night Out event.
Marijane Hamann Park is a spacious green expanse of 10.5 acres ensconced in a suburban enclave of San Jose that borders the city of Campbell. The park's amenities include a children's playground, a large green carpet of lawn, picnic tables and barbecues. But not too long ago, neighbors of Hamann Park had some tough choices to make to reclaim the park.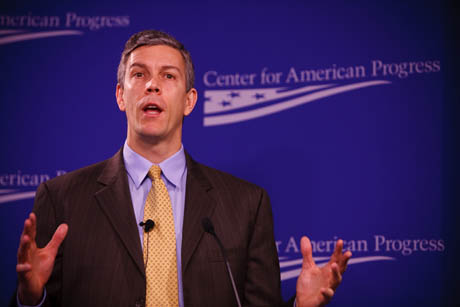 U.S. Secretary of Education Arne Duncan believes there is plenty of work to be done in fixing the teacher pipeline from universities to classrooms. (Photo by Ralph Alswang)
It is so difficult to get things done in Washington that one has to wonder why we wanted to get here in the first place, uttered a pensive U.S. Secretary of Education Arne Duncan last week. It was a tragically sad but candid comment about where we are in this fractured system of democratic government.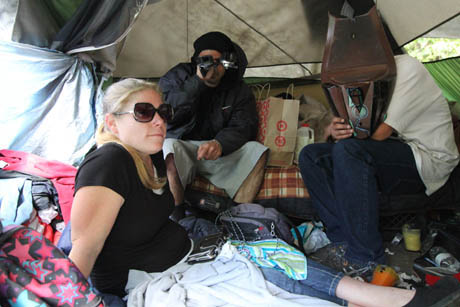 Homeless residents in San Jose sit in their tent, which was set up last summer along Guadalupe creek in downtown San Jose.
Of San Jose's 5,000 or so homeless residents, nearly 30 percent are chronically on the streets, according to city housing officials. Most of the chronically homeless suffer from mental illness, physical disability, addiction or some combination of the three. On Wednesday, the San Jose's Rules and Open Government Committee will discuss legislation that could address such problems.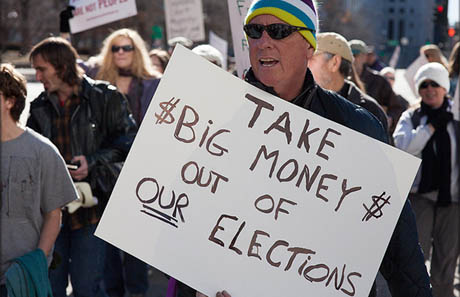 Lawmakers across the country are signing resolutions in opposition to the U.S. Supreme Court's decision in the Citizens United case. (Photo by ithnmsrtkn, via Flickr)
As lawmakers around the county urge Congress to create a constitutional amendment to overturn the controversial Citizens United decision, the City Council on Tuesday may vote in favor of supporting a resolution to overturn the landmark U.S. Supreme Court case. Other items on Tuesday's agenda include lawsuit settlements, a new contract for Microsoft software and state taxes.
Mission Statement: This site is designed to encourage political debate, discussion and change in our city, started by people who value San Jose and are interested in her future and in this valley's place in the state and nation.
Disclaimer: All views expressed on this site are solely the opinion of the individual writer.
Comment Policy: Please read our comment policy before posting.
© 2013 San Jose Inside. All rights reserved. Contact us