People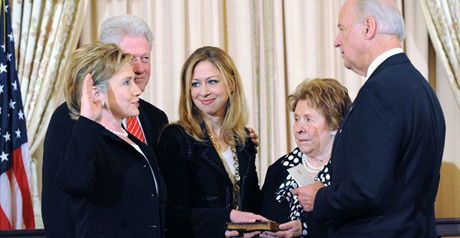 In order for the Obama Administration to remain in office, Vice President Joe Biden, right, and Secretary of State Hillary Clinton might need to exchange roles. (Photo courtesy of the U.S. State Department)
In any other time in history, re-election for President Barack Obama would be a cinch. But in the era of FAUX News, twisted truths, instant gratification and public ignorance, this administration will face a tough road to re-election. The Democrats need to do something to energize the base.
This week, San Jose Vice Mayor Madison Nguyen answered 10 questions selected by SJI staff out of dozens submitted by San Jose Inside commenters. The topics range from the Little Saigon controversy and Nguyen's relationship with public safety unions to the city's legal basis for the pension reform ballot measure.—Editor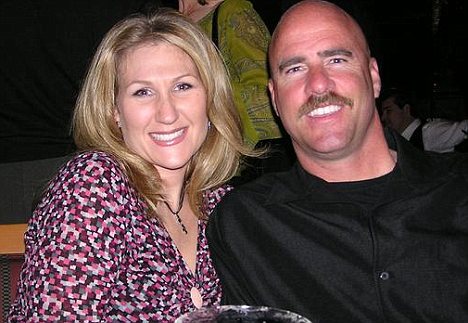 Chris Shimek and I grew up in the same neighborhood. We played baseball together, attended the same neighborhood schools—but the thing we had most in common was we shared the same best friend. The Chris I knew was outgoing, friendly, cheerful, and abhorred violence against women and children. It is why he became a San Jose police officer. Something happened to the Chris I knew on Sunday, November 27, when he took the life of his soon to be ex-wife and himself.
Cupertino is a very small city that borders San Jose on the western edge of its larger neighbor. It is an elite community that prides itself on its excellent schools, ethnic diversity and its agrarian heritage. Its biggest claim to fame remains that it is the corporate headquarters to the wealthiest company in the world, Apple.
For the second time in a month, a local Hells Angels member was shot to death in public. Steve Tausan, 52, was attending a funeral Saturday for the late president of the motorcycle club's San Jose chapter, Jeffrey Pettigrew, who was killed in September in a casino shooting in Sparks, Nev. Pettigrew also worked as a city of San Jose employee.
Oddly enough, three of the biggest stories in San Jose right now all have one thing in common: the most famous nonfiction author in America, Michael Lewis. His current bestseller, Boomerang: Travels in the New Third World, details how countries, states and municipalities are going bankrupt, and he uses San Jose as a model for implosion by pension.
This week, San Jose Police Chief Chris Moore has agreed to answer questions from San Jose Inside readers. He is the third public official to participate in this series. Questions are selected from online posts to this site.
Patricia Mahan, Santa Clara's vice mayor after serving as mayor from 2002 through 2010, says she has been diagnosed with breast cancer. While it is unclear if Mahan's condition will require leave from her position, she reportedly is expected to fully recover with proper treatment.
Police have reportedly arrested the man accused of killing Jeffrey Pettigrew, a city employee who was also president of the San Jose chapter of the Hells Angels motorcycle gang. Pettigrew, who worked for the city of San Jose within the Dept. of Transportation, was shot in the back four times last week at John Ascuaga's Nugget casino in Sparks, Nevada.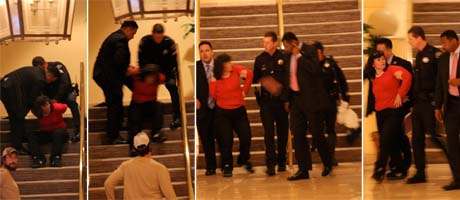 SJPD and Secret Service evict a screaming woman from the Fairmont.
On Sunday, President Barack Obama became the first sitting U.S. president in a decade to overnight in San Jose. That may placate some of the people who have been complaining that this president bypasses a city that overwhelmingly supported him and only spends time with the wealthy gods of social media on the Peninsula, who dispense $35,800 checks like ATMs. Truth be told, the only reason Obama was in San Jose was because he needed a place to crash.
Mission Statement: This site is designed to encourage political debate, discussion and change in our city, started by people who value San Jose and are interested in her future and in this valley's place in the state and nation.
Disclaimer: All views expressed on this site are solely the opinion of the individual writer.
Comment Policy: Please read our comment policy before posting.
© 2013 San Jose Inside. All rights reserved. Contact us