Business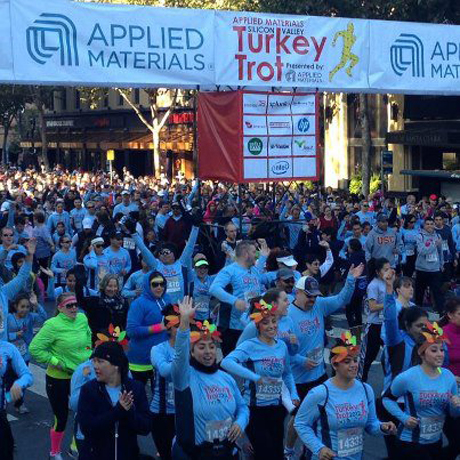 The annual Turkey Trot raises more than $850,000 for local nonprofits, but one of them has a dubious history in fulfilling its mission.
Almost 28,000 people are expected to run in the 9th Annual Silicon Valley Turkey Trot, the Thanksgiving morning race put on each year by the Silicon Valley Leadership Group Foundation. The runners, walkers and joggers might be surprised to note that money raised in previous years to pay health care premiums for low income kids was diverted to political campaigns.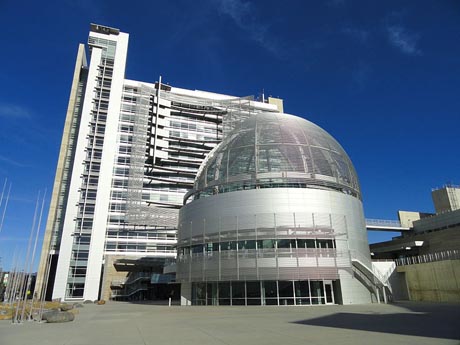 The first U.S. Patent Office in Silicon Valley will call San Jose's City Hall home.
The U.S. Department of Commerce picked San Jose City Hall as the permanent site for its Silicon Valley satellite patent office. The office will open up shop by the end of 2014, the federal agency announced Tuesday.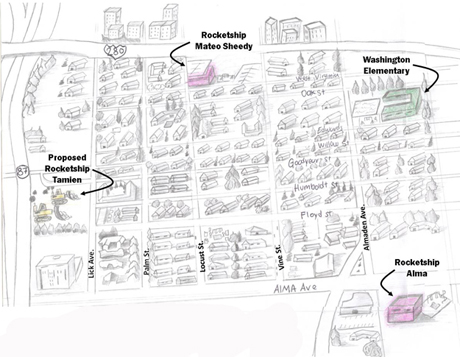 This map shows where Rocketship charter schools are located within San Jose's Washington/Tamien neighborhood. (Image courtesy of http://www.StopRocketship.com)
Despite vocal opposition from some community members, Rocketship Education could receive approval to start building another charter school in the Washington/Tamien neighborhood. The City Council this week will consider selling the nonprofit educational company an $850,000 parcel of land to develop the new campus. Also on the council agenda is an underfunded gun buyback, a contract agreement with the electricians union and an urban village plan.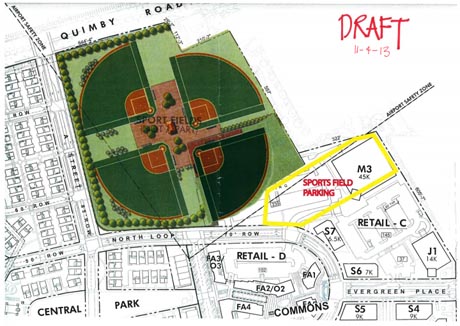 Plans to build a four-field softball complex at a site by Eastridge Mall were delayed so the city could explore other options.
Two minutes shy of deadline to place it on the Nov. 19 City Council agenda, Councilmember Pierluigi Oliverio logged a request for the city to revisit the discussion about where to place a softball complex paid for by the remaining balance of a $228 million pool of bond funds. That and more at Wednesday's Rules and Open Government Committee.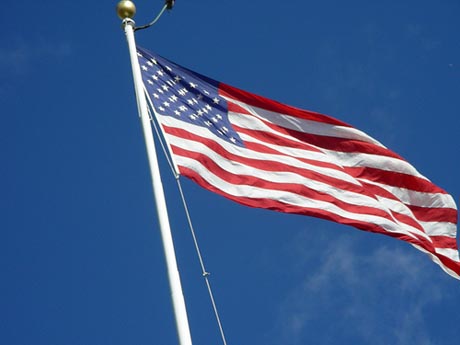 Ceremonies honoring the men and women who have served in the U.S. armed forces took place across the county Monday for Veteran's Day. (Photo by brittanylynae, via Flickr)
Communities across the nation on Monday recognized the men and women who have served in the U.S. armed forces. A ceremony for San Jose's 95th annual Veterans Day parade was held near the SAP Center, and hours earlier the Veterans Day National Ceremony commenced at Arlington National Cemetery in Virginia.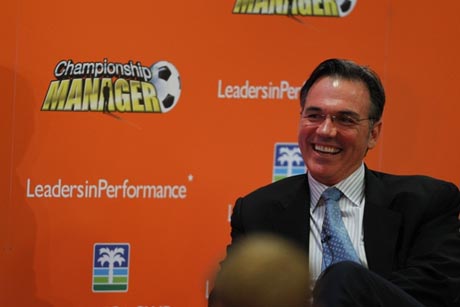 Billy Beane, general manager of the Oakland A's, has faced tight budgets when trying to assembly a top-notch team. Ed Shikada will have similar challenges as San Jose's city manager, Peter Allen writes. (Photo by Muboshgu, via Wikipedia)
Every winter, Oakland A's general manager Billy Beane has one hand perpetually tied behind his back, as he tries to rebuild his rosters for the following season. Frugal ownership, a decrepit stadium, and multiple run-ins with raw sewage make the A's one of the least desirable Major League Baseball landing spots for top free agents. So, Beane, the man profiled in Michael Lewis' bestseller Moneyball, does his best to cobble together lineups with bargain basement prospects and aging journeymen. And because he's exceptionally good at his job—and a little lucky—he manages to field competitive teams year after year. The city of San Jose faces similar obstacles in recruiting and retaining the best and brightest minds to run the day-to-day operations of America's 10th largest metropolis.

Mike Honda, vice chair of the Democratic National Committee, knows how to rally the base, but will that be enough?
Mike Honda—Silicon Valley's globe-trotting, karaoke-singing, hard-partying congressman—has had a charmed career. Now, a well-funded challenger, Ro Khanna, asks whether being likeable is enough, or whether the public expects a lawmaker to work hard, write laws and fight to keep valley industries competitive.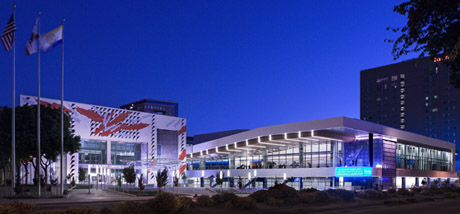 The recently completed renovation of San Jose McEnery Convention Center is one of dozens of projects the city will review at Tuesday's City Council meeting. (Photo courtesy of Team San Jose)
Last fiscal year, the city completed 101 construction projects valued at $110 million, according to a capital improvement review going before the City Council on Tuesday. Completed projects included the San Jose McEnery Convention Center expansion, a $130 million effort that wrapped up in September.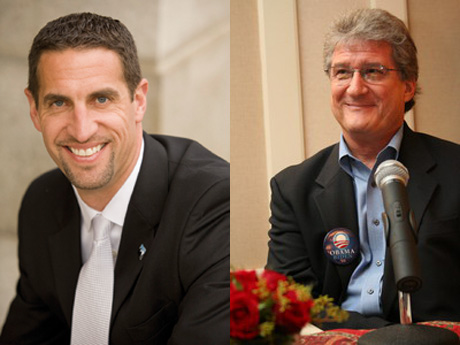 Despite a report in ABV News, there has been no reconciliation or partnership between the San Jose Silicon Valley Chamber of Commerce, and its CEO Matt Mahood (left), and the Democratic Central Committee. DCC chair Steve Preminger, right, says the two men have never even met.
TV sportscaster and former San Jose City Council candidate Robert Braunstein penned a heartwarming editorial in his newsletter about the reconciliation of two political rivals: the San Jose Silicon Valley Chamber of Commerce and Democratic Central Committee. The business backers and the labor supporters, Braunstein wrote, have let bygones be bygones. Except they haven't.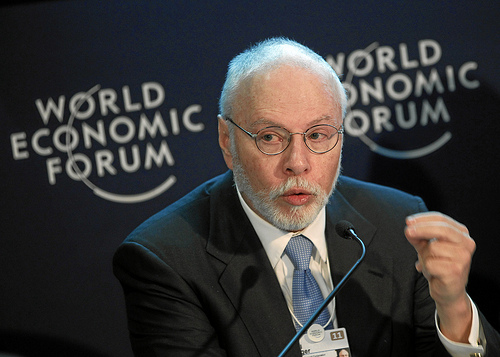 Paul Singer, chair of the Manhattan Institute, which paid for San Jose Mayor Chuck Reed's flight to New York this week, is also CEO of Elliot Management—one of the biggest "vulture funds" in the world. (Photo by World Economic Forum, via Flickr)
First he behested $200,000 on behalf of a shadow group under the control of John Arnold, the former Enron executive who helped crash California's economy before making big bucks as a hedge-fund manager. Then he acted as chief requester for $50K from Richard Riordan, the former mayor of LA, and a matching denomination from a couple of pension-busting obsessed businessman in Silicon Valley. Now, San Jose Mayor Chuck Reed, in his quest to put a state pension reform measure on next year's ballot, appears to have joined forces with the Manhattan Institute and its billionaire chairman Paul Singer, an ardent supporter of The One Percent.
Mission Statement: This site is designed to encourage political debate, discussion and change in our city, started by people who value San Jose and are interested in her future and in this valley's place in the state and nation.
Disclaimer: All views expressed on this site are solely the opinion of the individual writer.
Comment Policy: Please read our comment policy before posting.
© 2013 San Jose Inside. All rights reserved. Contact us